Kayla has been grooming since 2014. She dreamed of opening her own salon & in January 2020, her dream came true. Now she has 9 of the best Pet Stylists in Saskatoon working with her. Kayla's mom, whom had been a groomer for 15 years before retiring, has been helping with training & maintaining safety at the salon. Kayla had a vision of keeping her salon as stress-free as possible by providing one on one service for each pet to each groomer without the hassle of pets waiting in kennels or wondering around with other unfamiliar pets. Kayla's favourite grooms to perform are poodles & yorkies. Kayla aims to touch the hearts of every 2-legged & 4-legged client she meets.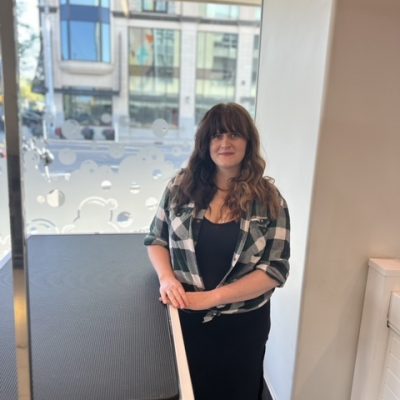 Jordan started her career in 2018. She became certified in cat & dog grooming with additional certifications in Pet First Aid & Fear Free Grooming. Jordan is the Pet Parlour Manager & has been with us the longest out of all the girls. She loves doing creative grooming, colouring, new styles like Mullets, Mohawks or braiding. Most importantly, she finds the best way to work with your pet to give them a calm & comfortable grooming experience. Jordan spends her down time with her husband, reading, painting & entertaining her two crazy pets at home, deemed un-adoptable due to behavioural & health issues, Blu – pit bull mix & Noodle – tuxedo cat. Whenever Jordan puts her heart into something she never fails as shown in her grooming & home life.
Gabby, started her career in 2017. She is a patient, kind & caring person. She loves creative grooming & to be challenged. Gabby's favourite grooms are Bichons, Pomeranians & cats. She is full of information about reptiles, fish & small animals. Gabby has tons of reptiles, a munchkin cat named, Nugget & a toy poodle named Sophia.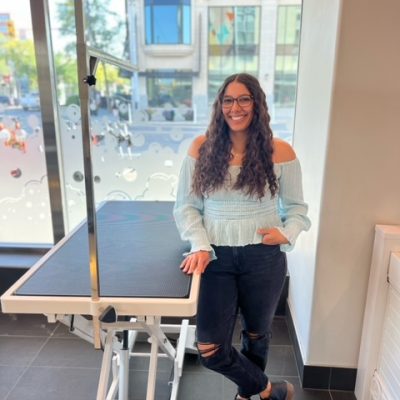 Renee started her career in grooming in 2018. She is driven & strives to create the best experience for every pet she grooms. She especially loves working with anxious & nervous pets. She loves seeing the outcome of their grooming with their personalities shining through as they get comfortable in her presence.She is certified in Canine First Aid & Fear Free Grooming. Renee is part time during school season & full time in the summer. She is studying to be a Social Worker & we couldn't be more proud of her! Renee loves animals & has two cats, Aspen & Chance.​ Her favourite past times outside of work & school are spending time outdoors wiht her boyfriend, reading, crafting & riding her horse.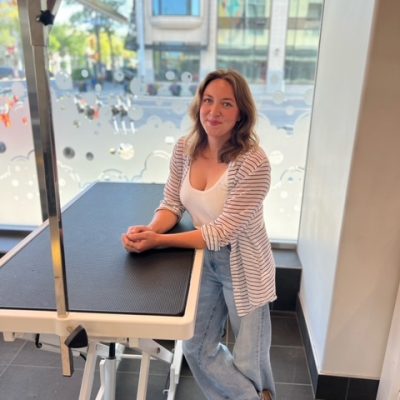 Hanna started her journey in grooming in 2019 & began working at the Pet Parlour in 2021. In 2022, she became safety certified in grooming where she worked under a 15 year retired groomer. She is falling in love with the ins & outs of grooming & learning more & more everyday. Hanna has a calm & patient attitude towards every dog she grooms. She loves doing heavy tidies but enjoys working on every breed of dog with different styles! You can catch Hanna during the winter in our salon but in the summer, Hanna drives a tractor, full time, on her families farm, where she plans to take over the business in many, many years. In her free time, she spends time outdoors & reading, spends time with family & friends.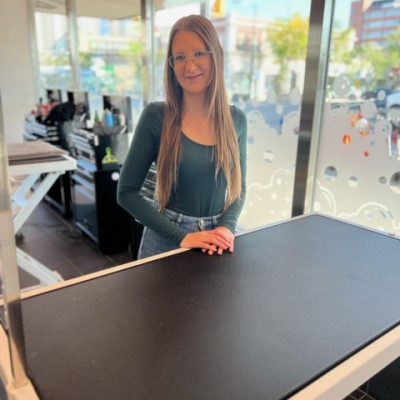 Hannah started her career in 2021, where she apprenticed in Swift Current under a seasoned groomer. She started at the Pet Parlour in 2022& has been expanding her knowledge for grooming everyday with the help of her fellow groomers. Hannah has always had a special connection to animals her whole life. She is a caring person who strives to bring her positivity everywhere she goes. Her favourite grooms to perform are on Bernese Mounain Dogs & Golden Retrievers because they are always happy to be in the salon no matter what! She also enjoys fluffy dogs like Pomeranians & trying to master the art of the perfect FOOF. One of her favourite past times is spending outside time with her Golden Retriever, Tino.  She loves to relax inside doing puzzles with her 2 cats. She looks forward to building relationships with her clients & getting to know more about you & your dog.
Tawny recently joined the YXE Parlour Team in May 2023.  She has been working in the salon/spa service industry since 2015 for humans. Tawny has had pets all her life & has a rescued rotty-shepherd cross named Rex, along with two cats, Reese & Jynx. She is learning so much & is loving every second of it. Tawny spends her free time with her pets, her husband, Freedom & her family. She looks forward to bringing her relaxing techniques from salons & spas to your pets experience.
Sasha joined the team in March 2023, eager to learn all the ins & outs of becoming a Professional Pet Stylist like her sister, Gabrielle. Growing up, she has always had a passion for all animals big & small. She shares a love of reptiles & other small animals. In her free time, she enjoys spending time with her boyfriend, their pitty mix, Rush, two cats, Peaches & Blu & her bearded dragon, Diablo. Sasha works another full time job other than the Parlour. She is also starting school in the fall to become a Paramedic. She is excited to learn & work with the wonderful women of YXE Parlour.
Jada recently joined YXE Parlour team. She dreams of having her own farm where she can welcome rescue pets & give them a loving home. She has grown up around animals & found herself passionate for them at a young age. She has a pomeranian/poodle mix named Nina, a red fox lab mix named Bronx & 3 rescue cats, Ragdoll siblings, Koozie & Floyd, a calico kitten, Rue. Jada enjoys being in nature especially in summer. She loves to travel, quad, fish, hike & hunt. Jada believes every pet should be spoiled & loved beyond measure.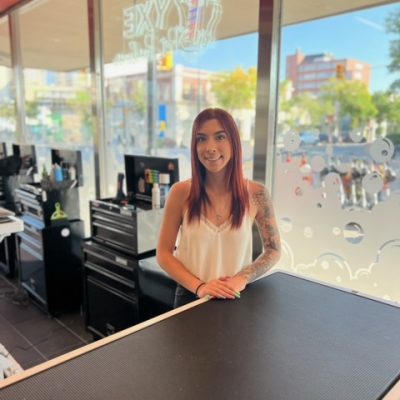 Amber joined YXE Parlour team in May 2023. She is a passionate animal lover with a special affection for dogs & cats of all breeds & sizes. Among them, Huskies hold a special place in her heart, making them her favourite breed. In her free time, Amber enjoys fishing, camping & embracing nature. She shares her life with her partner Adam & beloved pets, Jasper, husky/malamute mix & Nixon, the tabby cat. Amber has always had a strong desire to become a groomer & is thrilled to be part of the team. She is eagerly anticipating the opportunity to meet & care for more cherished pets.